The current proposed development that's drawing lots of attention in WP is called The Flats At Westchester, which would be built at 1133 Westchester Avenue. The Boards of at least three neighborhood associations have written to their members about it (Rosedale, North Street, and Gedney), and the WP Council of Neighborhood Associations is making this development the focus of their meeting on March 12th. I applaud the various people working to inform the public informed about this development, so the citizens of WP can make an educated decision about whether they support it. And, before I say anything else, I note that the developer deserves credit for participating in a public discussion.
I don't have a strong opinion about the proposal itself. In my eyes, what's immediately important about the proposal is that it illustrates fundamental problems with the way our City government is analyzing a proposed development's impact on our public schools. This developer submitted materials addressing the anticipated impact on our public schools, with numbers that are outdated, and conclusions that ignore our current reality. More specifically, as the "current" enrollment number, this developer uses our enrollment number from two years ago, and concludes that our enrollment "has been slightly decreasing since the 2013-14 school year," as shown in this image of its Expanded Environmental Assessment: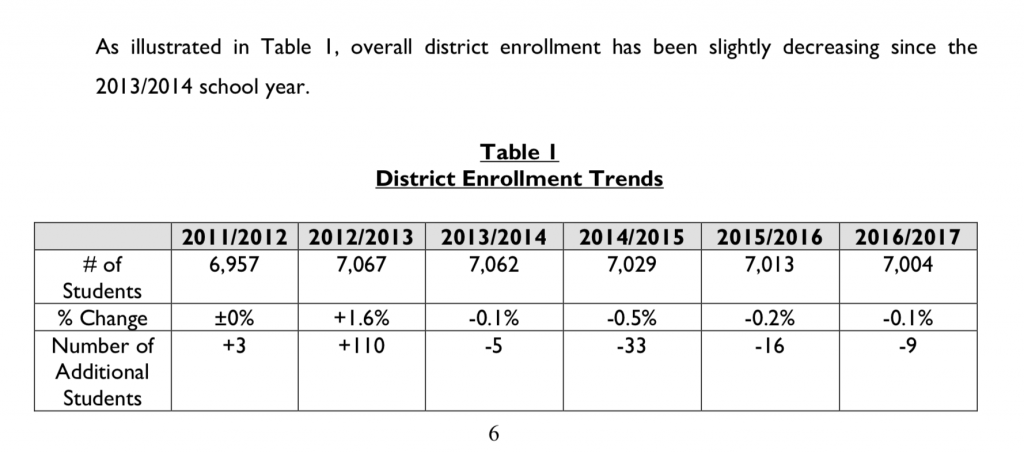 This developer then estimates that the proposal will add 30-31 students to our public school enrollment. Calculating that 30-31 students "represent an increase of 0.4%" of the enrollment from 2016/17, the developer concludes that "there would likely be no significant adverse impact" to District enrollment, on the following page of its Expanded Environmental Assessment:

I see two fundamental problems with the developer's analysis. The public has data from this past July showing that, first, enrollment for the current school year is more than 250 students higher than the enrollment number used by the developer, and that, second, the District was projecting enrollment would rise to 7,438 students soon: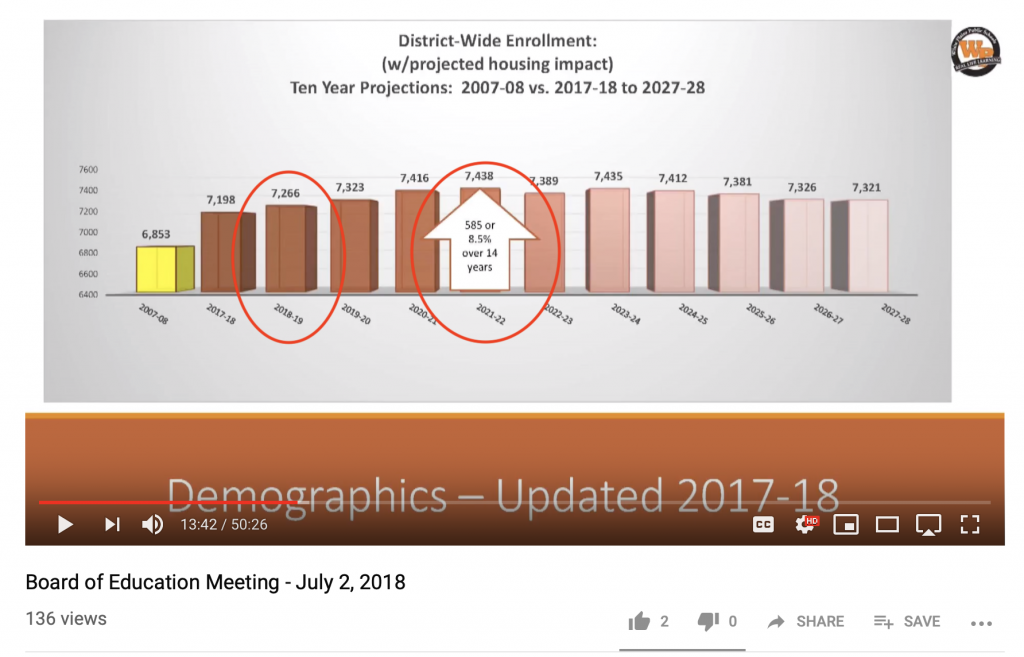 Given that our current enrollment is expected to hit 7,438 students independent of these 30-31 additional students, calculating what percentage these new students represent of 7,004 students tells us nothing about the impact of this development on our public schools.
The question that we should be asking of each new proposed development is how our schools – which are already projected to grow to enrollment of 7,438, at which point our high school is projected to be above its capacity – are going to fit any additional students beyond the ones we were expecting as of July 2018, without significantly changing our student-to-teacher ratio.
I'd feel much better about things if someone in City Hall or Ed House answered that question before we approved another residential development – even one that's expected to add the relatively small number of 30-31 students.