White Plains has potential to be a great city. For years, we've been falling short of that potential, with a stagnant local economy, multiple vacant storefronts, and an abundance of stagnated development projects which currently sit as holes in the ground or vacant buildings. Sales tax revenues have failed to keep pace with the rest of Westchester County, and we've had to raise property taxes to maintain the same level of government services. Thankfully, because we have a number of competitive advantages over neighboring municipalities – including but not limited to our close proximity to Manhattan, multiple malls and courthouses, the County Center and County Office Building, a diversity of neighborhoods, a wide array of housing stock, great public schools, and, most importantly, a fantastic group of residents – we are still situated to be a great city if we make changes to adopt to the modern economy. Here are 10 ideas that would help improve the local economy, raise the quality of life for our residents, and push WP closer to its tremendous potential:
Change the parking policy, which currently deters people from spending time in our downtown. Any number of changes are worth considering, but here are a few specific possibilities:
Resident parking pass for $100/year
Free parking during evenings (cap it at 3:00am, if we feel it's important to prevent overnight parking)
Lower fines, so the driver fined is less discouraged from returning
More spaces designated for curbside pickup at local restaurants, so people can run in quickly without owing for parking
Lower prices (undo the recent increase)
More payment flexibility – i.e., fewer spots where you have to pay for at least an hour.
2. Make a greater commitment to attractive community events that will bring people to our downtown, similar to the "Alive at Five" concert series in Stamford, CT. Stamford has featured national and regional headliners – such as Gavin DeGraw, Sean Kingston, Neon Trees, CeeLo Green, Ziggy Marley, Sugar Ray, Rachel Platten, Plain White T's, Phillip Phillips, Andy Grammer, Boyz II Men, Michael Franti, Guster, Shaggy, O.A.R, Third Eye Blind, and Hanson – and has drawn a large crowd of people to its concert series.
3. Add picnic tables, benches, and a playground to our downtown, so it becomes a destination for families with children to spend time. Consider closing down part of Court St. to vehicle traffic (the part that is often closed anyway for the Farmers' Market and other city events), so it can be designed into a space that will be maximally effective at attracting people to spend their time.
4. Organize welcoming events for new residents, to help them become a part of our community, inform them about our businesses, schools, and institutions, and increase the likelihood that they stay for years.

5. Have Ladder 34 in service 24/7/365.
6. Take steps to reduce the likelihood that approved projects sit as holes in the ground or vacant buildings for an extended period of time, either by:
At the approval stage, developing metrics to determine which projects are most likely to be developed (perhaps by studying the financing secured by the developer, or by looking at other metrics, after studying what maximizes likelihood of completion in other local municipalities), and making viability an important component of getting approval, or
When granting approval, connecting a financial consequence to extended delay, whether via a performance bond or something else, or
If years pass after approval and developers seek extensions of time, start connecting conditions to extensions we grant, so fewer projects languish for years.
7. Update our Comprehensive Plan, to reflect the fundamental ways life in our city has changed since the most recent update in 2006. Our current Comprehensive Plan says that the "Retail market demand is anticipated to remain strong." (Page I-II-16.)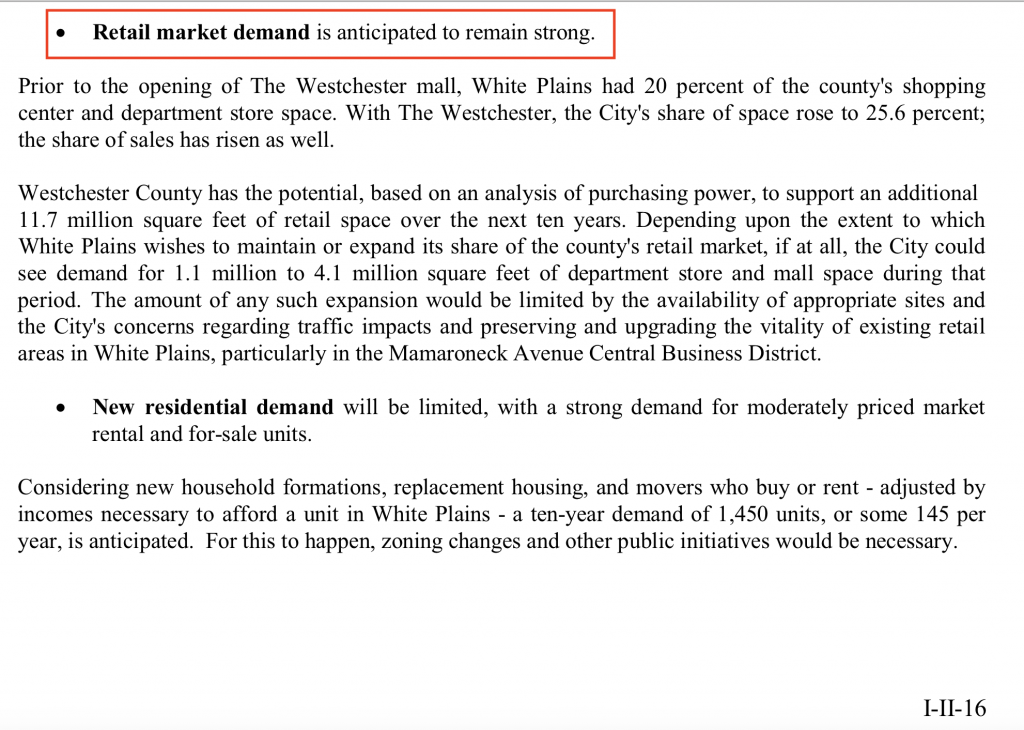 Everyone knows that the retail market has changed dramatically since 2006, so in at least this one very fundamental respect, our Comprehensive Plan is dangerously outdated. Moreover, the same page of the Comprehensive Plan says that "New residential demand will be limited, with a strong demand for moderately priced market rental and for-sale units." Yet, City Hall has been aggressively pursuing new residential development for years, and the vast majority of it has been luxury rental apartment buildings. Our Comprehensive Plan should be updated, and then decisions made by City Hall should be more closely aligned to what it says.
8. Impose term limits on the Mayor and each Common Council Member. Politicians don't get better after many years in office, but, because incumbency provides tremendous advantages over challengers, incumbents become very difficult to defeat.
9. Approve no more luxury rental apartment buildings until at least 50% of the units already approved either get (a) built, or (b) abandoned by their developer (i.e., the approval expires). Continuing to add to the number of units which are approved but not yet built sets us up for overcrowding if they all get built, or more holes in the ground if they do not.
10. Lastly, instead of having 6 Common Council members each representing the entire city, divide the city into 6 districts, each with one representative. I've never understood how I supposedly benefit from having 6 people "representing" me in the same position, and I believe that a change to this structure would bring about greater efficiency and accountability. In terms of efficiency, if I want to communicate something to my representative, I don't want to have the same conversation 6 times. And, if each Council Member had a distinct set of constituents separate from the others, it would be more efficient for them to survey their own unique constituents, rather than having all 6 Council Members each surveying the entire city every time they need to get a sense of how their constituents feel about an issue. In terms of accountability, it's quite notable that just about every other level of government, I have only one person representing me: I have one President, one Vice President, one Governor, one Mayor, one County Executive, one County Legislator, one representative in each of the State Senate and State House, and one representative in the U.S. House of Representatives. The lone exception is the U.S. Senate, where I have two people representing me. But, even there, I vote for one Senator at a time. Voting for one representative at a time at each level of government makes sense. That way, if I feel that the incumbent candidate hasn't been adequately responsive to me, then I can focus on campaigning against that one person the next time she faces election. That's how it should be, in my opinion; if I am not happy with my representation, I should be able to push for change by campaigning against one person – not having to unseat multiple incumbents. This is especially true where, as is the case around here, Council Members frequently run as part of a "slate," diluting their individual policy positions.
The bottom line is that, if all 6 Council Members agree with me about an issue, then I'm getting no benefit from having 6 of them. If they all agree with me, then I'd rather spend less money on salary and benefits, and have 4 or even 2 of them. And, if I'm not happy with the way the majority of them are representing me, I'd rather be able to change my representation by campaigning against one person than having to defeat multiple incumbents in order to have representation which reflects my positions.
In summary, while it has been disappointing to see this great city fall so far short of its potential for years, there is still plenty we can do to bring us back on track, and break out of the slump we have been in for too long.